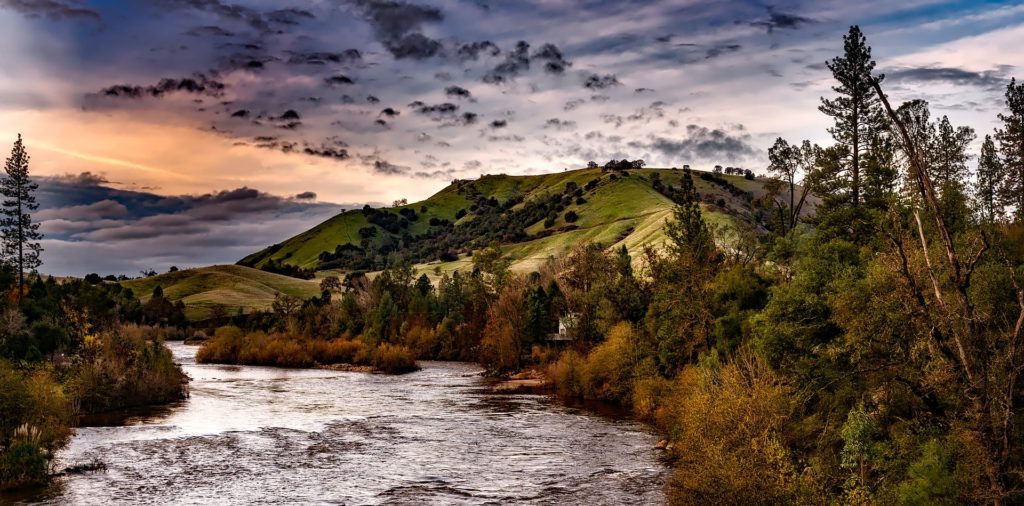 A few days ago, I was listening to an audio book called "Meant for More" by Lisa Sasevich. Lisa is a business coach who teaches clients to develop their irresistible offer. Her methods yield high sales conversion rates through heart-centered marketing messages. Like many business coaches, Lisa encourages her clients to give back to the organizations and causes that nurture their hearts. In Lisa's words, we are meant to be a river, not a pond. We are meant to allow wealth to flow through us.
This concept blew my mind with its simplicity and its power. Though Lisa was specifically referring to the concept of charitable giving, there are so many ways to be a river, not a pond. Though river-hood has many expressions, it has one central theme: trust. Trust is the life-blood of creative energy. Abundance flows from trust.
I learned this relationship between trust and abundance at a very early age. Like every Christian kid who attends Sunday School, I'd heard the biblical story of the widow's offering in Mark 12:41-44.
"41 Jesus sat down opposite the place where the offerings were put and watched the crowd putting their money into the temple treasury. Many rich people threw in large amounts. 42 But a poor widow came and put in two very small copper coins, worth only a few cents.
43 Calling his disciples to him, Jesus said, "Truly I tell you, this poor widow has put more into the treasury than all the others. 44 They all gave out of their wealth; but she, out of her poverty, put in everything—all she had to live on."
Somewhere, in my little brain, a light turned on. Jesus was paying attention. He noticed. The widow received Jesus's blessing in exchange for her trust. As a kid, whenever I was short on cash and needed money, I used trust as spiritual currency. I'd toss whatever I had left in the offering plate at church, trusting that God would provide for my needs. In time, I developed a reliable partnership with God. I knew with certainty that God / the universe provides for my every need. Though I have countless examples of needs being miraculously met, I will share two stories.
Just after Thanksgiving break during my first year of college, I had a terrible case of strep throat. I went to the student medical center first thing in the morning, but didn't have the $25 co-payment required to purchase antibiotics. In fact, I only had $5 in my wallet. I took the $5 and put it in the offering plate at chapel service later that morning. Then I went to my mail box on the way to lunch.
My mail box rarely contained any mail. But that day, it held one letter. The letter was from my aunt. My heart started beating faster as I opened the envelope. Even though my aunt had never sent me a letter before that time (or since)… and even though our families had stopped exchanging birthday or Christmas gifts years ago… I knew from past experience that this was exactly the type of random coincidence that God delights in using to meet my needs. Sure enough… the envelope contained a check for $25 and a funny letter from my aunt saying she wasn't sure why she was sending it.
A second example of using trust as spiritual currency happened when my husband and I were working as manufacturer's reps in the outdoor industry. It was January, a month that was notoriously tough for cash flow in the rep industry. We had a whopping $12,000 credit card bill that month for business and travel expenses. We only had $1,500 in the business bank account. I went to church that Sunday and put $150 in the offering plate as a tithe. The very next day, I got a call from a former manufacturing partner whose line we had represented. Though we were no longer working for their company, an auditor had identified an accounting error. They owed us $12,000 in unpaid commissions. They cut the check, which arrived that week in time to pay our credit card bill.
Please note, the amount is entirely irrelevant. For God / the universe, $12,000 is as easy as $25. Also note that the amount I put in the offering plate was irrelevant. Whether it was 100% of my possessions or a tithe, God rewards trust, not quantity. But the amount I contributed was never random. I always prayed first to determine what constituted trust and I never questioned my inner voice's reply. I learned that trust demonstrates a willingness to allow the universe's abundance to flow through me.
A river is the perfect metaphor for trust. It is unpredictable but reliable. It is unpredictable because we don't know what it will look like beyond the next bend. It may be narrow, fast-moving water or it may be wide, slow-moving water. It may be shallow and bumpy or it may be deep and calm. It may be straight or it may have many twists and turns. It may be joined by other tributaries or it may continue on its solitary journey for miles at a time.
Though the nature of the river is unpredictable, its progress is reliable. There is no questioning the fact that the river will continue to flow even though we can't see what direction it will take beyond the next bend. We know the river won't suddenly end. Even when we can't see where the water goes, we know it will keep flowing.
The nature of the pond is different. A pond is entirely predictable and entirely reliable. In short, a pond doesn't require trust. You can see all sides of it. That doesn't mean the pond doesn't have value. It is still beautiful. It still nurtures the life around it. But where a river gives life and energy to many people, plants and animals along its course a pond only benefits the few who live alongside it.
The river is continually replenished, blessed by the energy of many tributaries. The combined energy of the river and its tributaries changes the face of the earth. It carves out new paths, moves trees and debris, shifts, shapes, and creates. A pond may grow, but not by much. It doesn't have significant impact on the earth. It can sit for decades without changing.
Does that make the pond bad? Of course not. Ponds can be very beautiful. All life is good. Every life is worthwhile. Ponds are simply limited in their impact. But many people don't realize their actions represent a choice – whether to be a pond or a river.
If you decide to be a pond, be the best pond you can be. Do your best to avoid stagnation by expanding your wisdom and knowledge. Travel. Take care of your family.
But if you decide to become a river, look for ways to expand your wealth by giving money freely. Allow your wealth to flow. Tip well. Shower monetary blessings on those whose lives and work benefit you. Most importantly, practice random acts of giving. This trust allows the universe to easily accomplish its goals through you. In a sense, you form a business partnership with the universe. And nobody makes a better business partner than the universe. After all, the universe provides an unbelievable benefits package and no monetary request is too high. It's like having the ultimate angel investor. (pun entirely intended)
This week, my daughter, Callie, made a decision to anonymously leave $20 in an envelope under the windshield wiper of a stranger's car every month. I made the decision to make a donation to Esther Hicks and Mike Dooley, two authors / speakers whose words have sustained me and encouraged me through difficult periods in my life.
But being a river as opposed to a pond applies to more than money. It applies to ideas. The universe in an infinite reservoir for creativity and inspiration. If you are a pond, your inspiration and creativity benefit you and your close family and friends. If you are a river, your inspiration and ideas benefit many people.
In Lisa Sasevich's book, she encourages clients to be aware of opportunities. When a door opens, don't hesitate. Walk through it. When you have an idea, act on it. When you are inspired to express an idea through your art, create it. Creation is the highest expression of living. The universe offers great reward for boldly creating. These rewards come in the form of pride, personal satisfaction, the admiration of others and financial gain.
If you are inspired with a creative impulse, you already have the tools needed to achieve the object of your inspiration. If you are lacking the skills to achieve your vision in its entirety, you simply need to co-create with others. Reach out, expand, grow. Seek new tributaries and streams that will add to your river. Never try to block a tributary. And don't be upset when other tributaries or streams fail to join your river. Your river becomes more powerful when you focus on directing the flow instead of getting caught up in where the water's coming from.
Each and every one of us can choose to be a pond or a river in any area of our lives. Even if you literally have no money and no ideas, you still have the most valuable commodity of all – your love. By offering your love freely, you become a river. A smile or compliment to a stranger are simple ways to let love flow through you. Those small ripples of kindness change the world, my friend.