There is a success formula, "Be… Do… Have". It states that people need to put forth energy to "Be" the person who can "Do" what needs to be done in order to "Have" material and non-material rewards in life.
I've recently re-discovered a love for inspirational / motivational books and have been finding a great sense of comfort in their pages. However, you don't get skinny reading books about exercise. And I never dropped a single pound after listening to a podcast about healthy eating!
Mother Theresa, a woman who dedicated her life to meeting the needs of lepers and the homeless in the poorest slums of Calcutta, epitomized Do-ing. Mother Theresa said, "Prayer in action is love in action." My mother had another way of saying it: "Don't be so heavenly minded that you're of no earthly good!"
In the book Aspire by Kevin Hall, Hall recounts a story of a chance meeting with a an Indian shopkeeper named Pravin. Pravin grew up in the slums in India. One day, he and a group of boys saw Mother Theresa approaching and excitedly shouted, running to meet her. Mother Theresa placed her fingers over Pravin's mouth, encouraging him to "do" not "speak". She exhorted each of the boys to provide aid to the sick and hungry. She told them that a man was defined by his actions, not his words.
Today, scrolling through Facebook, I was so inspired by the people who are reaching out to help their neighbors during these challenging times. It occurred to me that action builds character. There are many people Do-ing amazing things. Those actions help to shape their Be-ing. The formula shifts to "Do. Be. Have."
This little form was posted by a friend's daughter. It's a simple way to help the elderly and immune-compromised people who are in need of assistance. It is a beautiful display of human kindness.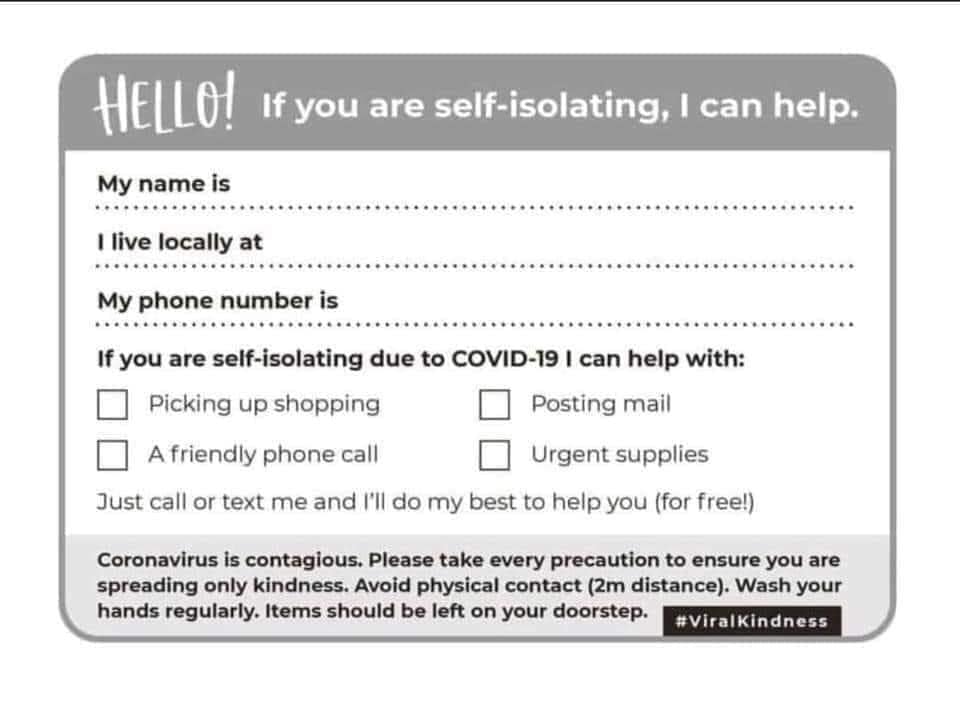 Millennials are often criticized as lacking a sense of responsibility because a vocal contingency is seeking forgiveness for student loans. Not all millennials are clamoring for debt forgiveness. Many are eager to find their place in this world and are doing whatever they can to make ends meet. Many are wiling to roll up their sleeves and do what needs to be done to alleviate suffering during this challenging time. Why not mobilize them?
Meals on Wheels is a program designed to help home-bound seniors and those who are seriously ill. Most communities in America have a Meals on Wheels program. The program volunteers are usually over 55 years old, a demographic that is being hit hard by this virus. What if millennials temporarily took over Meals on Wheels? Many of them are out of school and looking for ways to have an impact. 
Children in many school districts rely on the free and reduced lunch programs as their primary supply of food. Could Meals on Wheels be expanded to include delivery of meals to these families as well?
I am committed to doing at least one thing today to help someone in need. If you choose to do the same, please comment below so your suggestions and ideas can spark inspiration in others!